Shopping Cart
Your Cart is Empty
There was an error with PayPal
Click here to try again
Thank you for your business!
You should be receiving an order confirmation from Paypal shortly.
Exit Shopping Cart
Been a while since I posted some info up here so thought i better get organised and get some info onto my site.
I can now offer any of my leaders with a snap clip.  My stock lines will be the 45 and 55 lb mono leaders with clip but any of the leaders can be fitted with clips on demand.  Im fitting 80 lb Shogun coast lock snap clips to my leaders.  These clips are light enough to allow even the lightest of lures both hard bodies and rubbers to swim correctly, however they are tough enough to take the treatment that a big barra will hand out.  Simply message me to arrange to have the clips fitted to any of my leaders you wish to order.  They save you the hassle of tying knots and allow you to quickly change lures without cutting the leader back - obviously I recommend you keep an eye on the leader and re tie it should the leader become frayed when you do snag that good fish.  The clips are tied using a perfection loop to allow your lures to swim free and work to their hearts content.
I also have bumper stickers in stock now so I am supplying all orders of 10 leaders with a free bumper sticker till i decide to start to charge for them so jump on board and get your leaders now for the upcoming barra season - with all this rain around in the Top End and a cyclone coming ashore in QLD it is shaping up to be a bumper year all round.
Don't forget to email me your fishing pics to
[email protected]
with a short story on your capture - Ill post it up here and on my FB page and will give you a discount on your next order.
Tight lines
Shane
Jason Stammer contacted me and had us manufacture some special 80 lb x 12 metre leaders for him to use for jigging.  the leaders worked really well as evidenced by the great pics that Jason sent in - Jason writes -
"I have included a photo of a sounder reading which shows the typical ground we were fishing on. As you can see the reef rises and falls 10 metres, hence this is why I wanted the extra length of 12 metres on the mono leader  to keep the braid off the reef.
The guys I fished with were using 6 metre leaders and I am sure they will source extra long ones from you when we go back same time next year. So let me know if you change your contact details for any reason as we will want quite a few made up.
I will send some other emails with photos of what we landed, happy for you to use them and to write up a testimony if this helps you with your business.
We landed some good fish on your leaders, but take special note of the shark. Even more impressive was the fact that the rod snapped half way through the fight but your leader didn't.
Hi Shane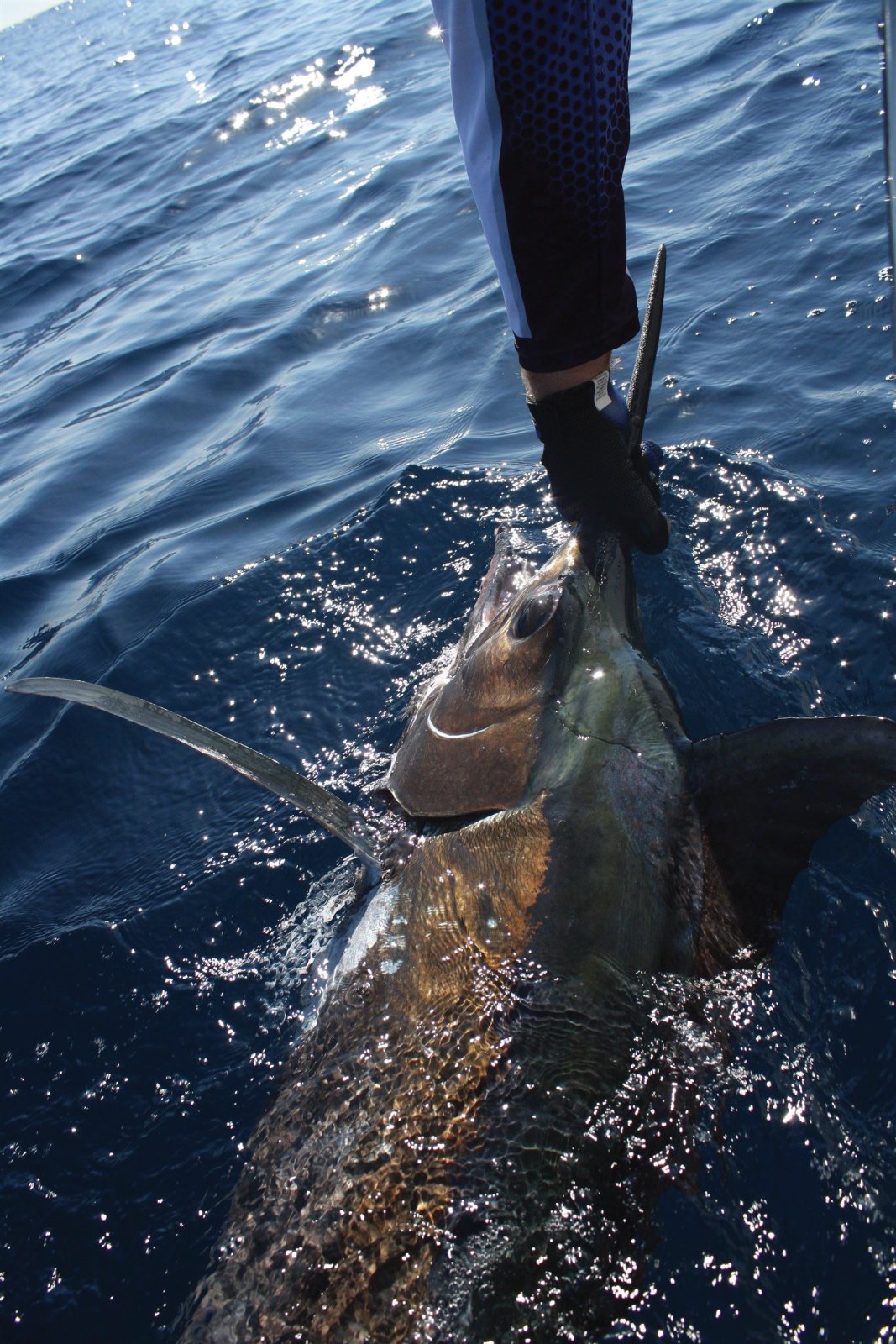 I just wanted to drop you a quick line to compliment you on your wind on leaders. I have been using your 110lb leaders in Dampier while targetting marlin and sailfish. They have never let me down and I find that using a wind on makes it much easier to control and tag fish at the boat. I recently landed 3 marlin and a wahoo on the one leader all in the same day and the join looked like it was still brand new. They are an excellent product.
Thanks
Pete Faulkner
Dampier WA
Townsville fisho Mick reports catching a 112cm barra using a 30 lb Shane Doevy Wind - awesome Mick - send in the pics for a discount on the next purchase mate

After a long delay due to work commitments I was keen to get out for a fish yesterday and it was agreat day out.
Up early to find my car doors open as I had left them unlocked and some little pr..k had been through my car - nothing of any value missing but I looked around and a bunch of other car doors in my street were open so must be a few little pr..ks getting around - might have to put some trebles into the dark corners of the ashtray amongst the coins and tie them so when they pull their hands out - grrrrr - anyway no damage done and nothing misisng - still peevs me but.
Destination for the day was Leeders Creek to see if the rumours of metre barra being hauled in were true.  The road to Leeders was awesome and dropped a paper with Chris and launched - word was that they had seen metre barra caught this week on the neaps!! Did a troll run round the outer edge of the bend but didnt turn a scale so I had a quick drop out the front at the top of the tide but didnt bother the scorers. Head over and had a look in a SWA creek and snagged seven crabs - two good bucks and some smaller ones - good enough to take down south this week - didnt wanna get land locked so headed out and it was glasss so making hay while the sun shone i headed around Hotham to catch the bottom of the tide and try for a jewie as I havent caught one for ages - ended up with a heap of smaller jewies and one nice goldy.  The 80 lb wind ons peformed awesomely. The tide turned and things went quiet so I heded back around and fished a couple of Hotham creeks.  Had some fun with some small trevally on a bommie using rubbers attached with 45 lb wind on leaders.  Catching live was a bit difficult and of course the one livie i did get got engulfed straight away by a 60 ish barra once the incoming tide allowed me to get into the creek. Threw a big blue squidgy out and hooked and landed an 80cm silver beauty after a short fight - the 45lb leader worked a treat and allowed me to put plenty of pressure on in tight country..  Also snagged a small blue salmon as well - headed home across the bay through some chop - got wet but who cares when you have a feed of fish on board.
Great day out after such a long time out of the game -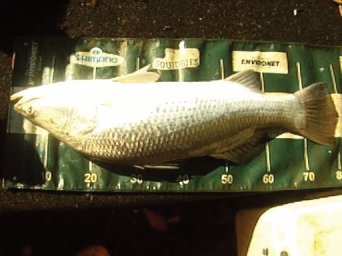 Off to have a look at the Daly tomorrow to see how its going down there.  Hopefully put the stretch on some of the 45 and 55 lb leaders.
Cheers
Shane
First time wind on user - Psul in NQ writes -

"Hi Shane,
I was recently contacted by Charles Armstrong enquiring about my leaders and a non fishing use.  Charles races model yachts and was looking for a product to restore his yachts.  After some correspodence I sent some samples to Charles and he was over the moon.
Like I said a bit out of left field and not a fishng post but another happy customer.
Cheers
Shane

With every man and his dog heading for 4 Mile hole and needing to get a bloke his first barra I made the call for some quiet time at Shady Fresh - awoke this morning to a pea souper fog which hung around till we got past Bark Hut making driving interesting. Nearly skittled mumma pig and several littleys as we exited the Mary River Bridge but the brakes pulled us up in time to watch them toddle off on there way - where the bl..dy rifle when ya need it. Rest of the trip in was uneventful and found only one car in the park on the fresh side - mmm maybe no fish biting here.
Trolled the bottom rock bar for jack and then headed up to the little creek that had produced a couple of weeks back and it didnt let me down - rats were coming over the side thick and fast and after a while Daryl my guest from Streaky Bay landed his first barra - in fact for a while there he snagged more than me as I was buggering around with different lures etc - we would ahve landed in excess of 30 barra - none worth keeping but good fun none the less - had a chat with Mickey from Spring Tide and he was doing it tough as well. Move to the top rock bar and dropped a good fish which would have been the best for the day but it wasnt to be - then we went right up the top and Daryl landed a nice saratoga and then we called it quits - a nice way to spend a day. No world record beaters but good numbers to keep me interested. All fish were caught on 40 lb wind on leaders which performed really well and allowed an excellent action in the soft plastics we were casting.  I only caught one fish all day on a hard body reidys lure.  Road is good - lots of cars on the way in when we were heading home so other areas may have been a bit quiet too.
Cheers
Shane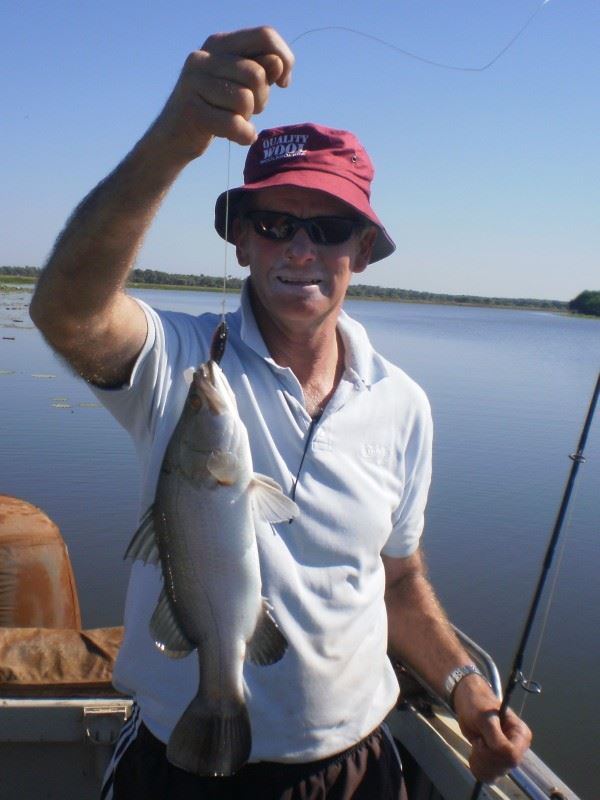 Heres some feedback I received today -

"Thanks for the correspondence, I'm finding your leaders to be strong, reliable and just good quality to use, down here in our Southern seas we I am sing them for trolling for tuna, attached to both diving lures and skirted lures and they perform nicely. They also bring good results when bottom bouncing for shark, I was losing a lot of School Shark due to them rubbing through shorter leaders or main line when they wrapped their sandpaper like skin around the line. Your leaders resist the abrasion better and as a result we boat more shark when using them and rarely lose a rig, knot or fish."
Regards - Phil
Cheers
Shane

/