Shopping Cart
Your Cart is Empty
There was an error with PayPal
Click here to try again
Thank you for your business!
You should be receiving an order confirmation from Paypal shortly.
Exit Shopping Cart
Been a while since I posted some info up here so thought i better get organised and get some info onto my site.
I can now offer any of my leaders with a snap clip.  My stock lines will be the 45 and 55 lb mono leaders with clip but any of the leaders can be fitted with clips on demand.  Im fitting 80 lb Shogun coast lock snap clips to my leaders.  These clips are light enough to allow even the lightest of lures both hard bodies and rubbers to swim correctly, however they are tough enough to take the treatment that a big barra will hand out.  Simply message me to arrange to have the clips fitted to any of my leaders you wish to order.  They save you the hassle of tying knots and allow you to quickly change lures without cutting the leader back - obviously I recommend you keep an eye on the leader and re tie it should the leader become frayed when you do snag that good fish.  The clips are tied using a perfection loop to allow your lures to swim free and work to their hearts content.
I also have bumper stickers in stock now so I am supplying all orders of 10 leaders with a free bumper sticker till i decide to start to charge for them so jump on board and get your leaders now for the upcoming barra season - with all this rain around in the Top End and a cyclone coming ashore in QLD it is shaping up to be a bumper year all round.
Don't forget to email me your fishing pics to
[email protected]
with a short story on your capture - Ill post it up here and on my FB page and will give you a discount on your next order.
Tight lines
Shane
Jason Stammer contacted me and had us manufacture some special 80 lb x 12 metre leaders for him to use for jigging.  the leaders worked really well as evidenced by the great pics that Jason sent in - Jason writes -
"I have included a photo of a sounder reading which shows the typical ground we were fishing on. As you can see the reef rises and falls 10 metres, hence this is why I wanted the extra length of 12 metres on the mono leader  to keep the braid off the reef.
The guys I fished with were using 6 metre leaders and I am sure they will source extra long ones from you when we go back same time next year. So let me know if you change your contact details for any reason as we will want quite a few made up.
I will send some other emails with photos of what we landed, happy for you to use them and to write up a testimony if this helps you with your business.
We landed some good fish on your leaders, but take special note of the shark. Even more impressive was the fact that the rod snapped half way through the fight but your leader didn't.
Headed out to trial the new 20 lb leaders at Cooroboree today - bit windy on the salt water so a quick change of plans and into the fresh I went.  Plenty of sign of fish around with tarpon busting up everywhere.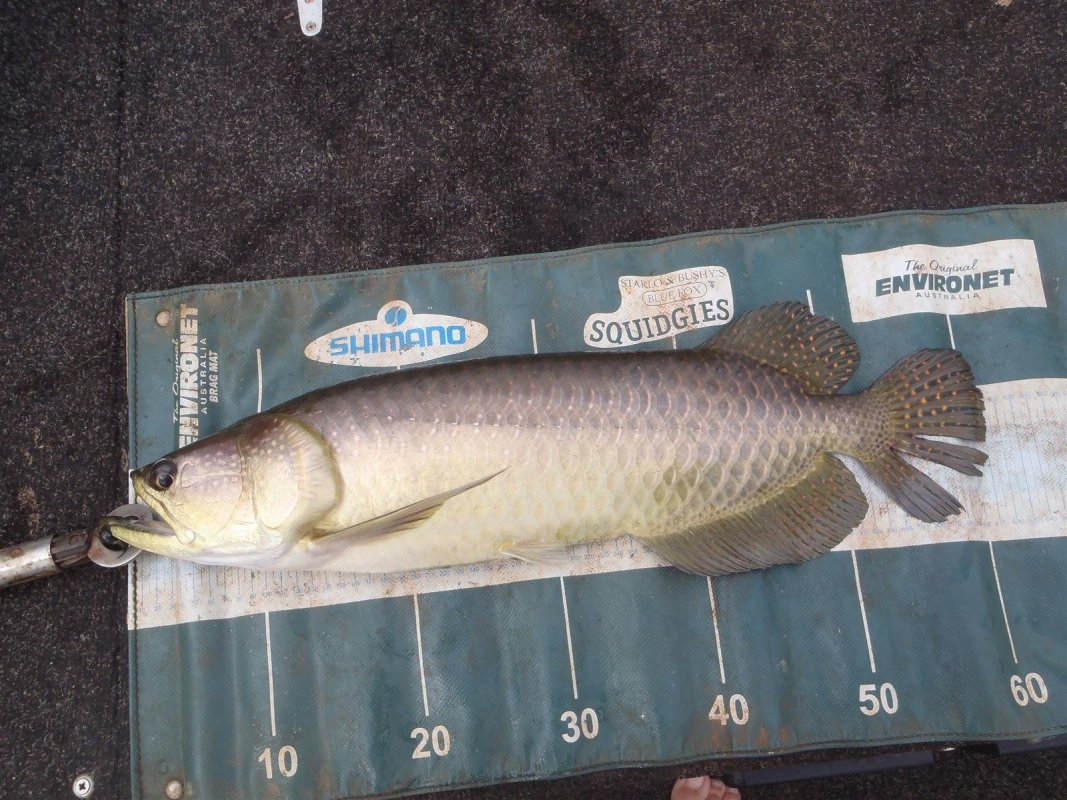 Fished with 20 lb mono leaders today and nothing else.  Following some inside info from Colin from Reidys lures the techniques was simple - cast lures into the stems of the lillies and hang on - first to hit the deck was a nice fat 60 odd cm barra followed by plenty of saratoga - heaps of weed but thats the nature of the beast - at times I had to drag the fish out and got the salad as well as the fish but the 20 lb leaders worked a treat.  I am super confident that they will work a treat on flathead.  I fished all day with 3 inch Reidys rubbers and at times it was a fish a cast action.  Tally for the day was 2 barra ( a third better fish bought to the side of the boat but chucked the single hook - dont think he knew he was hooked!!) and about a dozen or so saratoga - great day out.
Tomorrows challenge is to snag  fish on an 8 lb bream leader.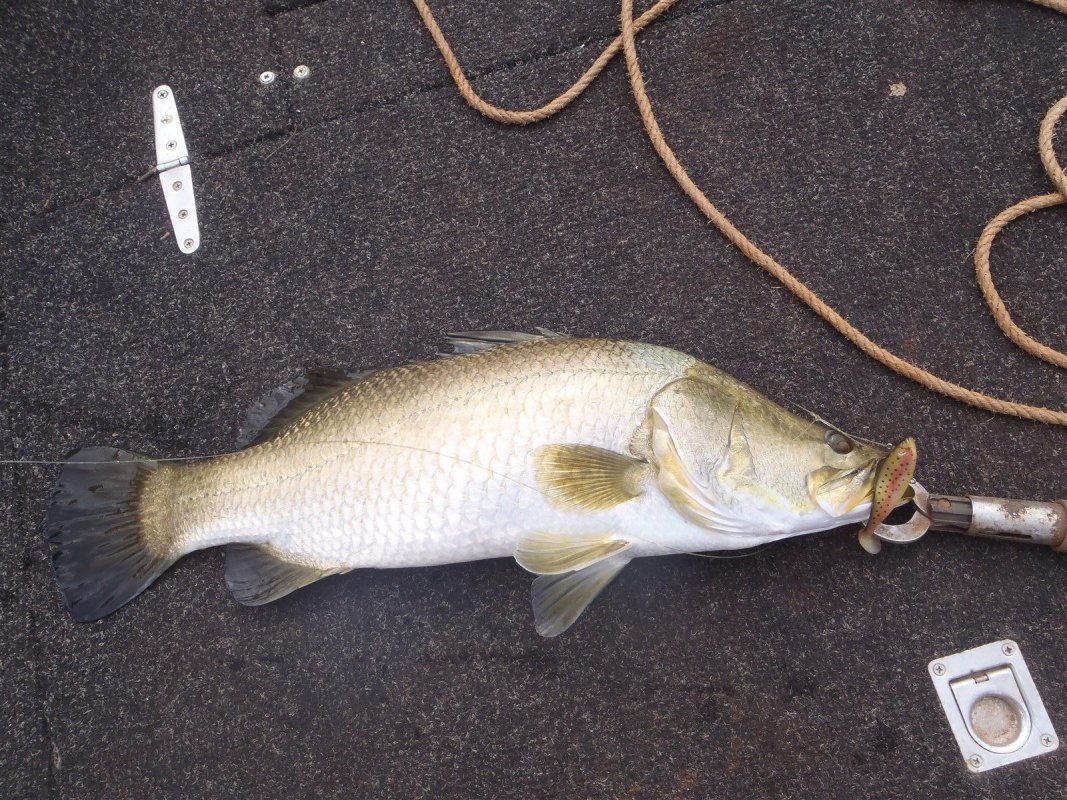 Cheers
Well its been a while - been at the PMs pleasure - not in Goal but away doing my job - was a good experience and allowed me to do some serious R&D on the leaders.
Am happy to be able to offer 8 & 10 lb flouro carbon leaders for chasing those elusive bream. Manufactured using 30 lb dacron and a new manufacturing process that allows me to insert fine leader into the dacron these should be a big hit.  Will get around to geting them up on the sales page but for now feel free to email me at
[email protected]
and I will do you a good deal in return for some pics of trophy bream and flathead.
- will be heading out to test them on barra, tarpon and saratoga int he next few days so hope to post some pics up for you.
In other exciting news a Shane Doevy Wind on landed the second biggest barra at 112cm at the Barra Classic recently. Veteran angling legend Steve Compain snagged an awesome barra and was ahead of the curve right up until the end of the comp when he was pipped by 2 cm - still a bloody awesome fish - Steve told me the fish hit the lure close the boat and buried him in the snag and they netted it while the line and leader were wrapped around the snag - great work. Steve was using a 60 lb fluoro carbon leader specially made for him for the competition.  Dont forget I can manufacture leaders of any length and strength to suit your needs

Keep an eye on this space - new labels on the way and a re release of the toughest leaders in the country!!
Hi Shane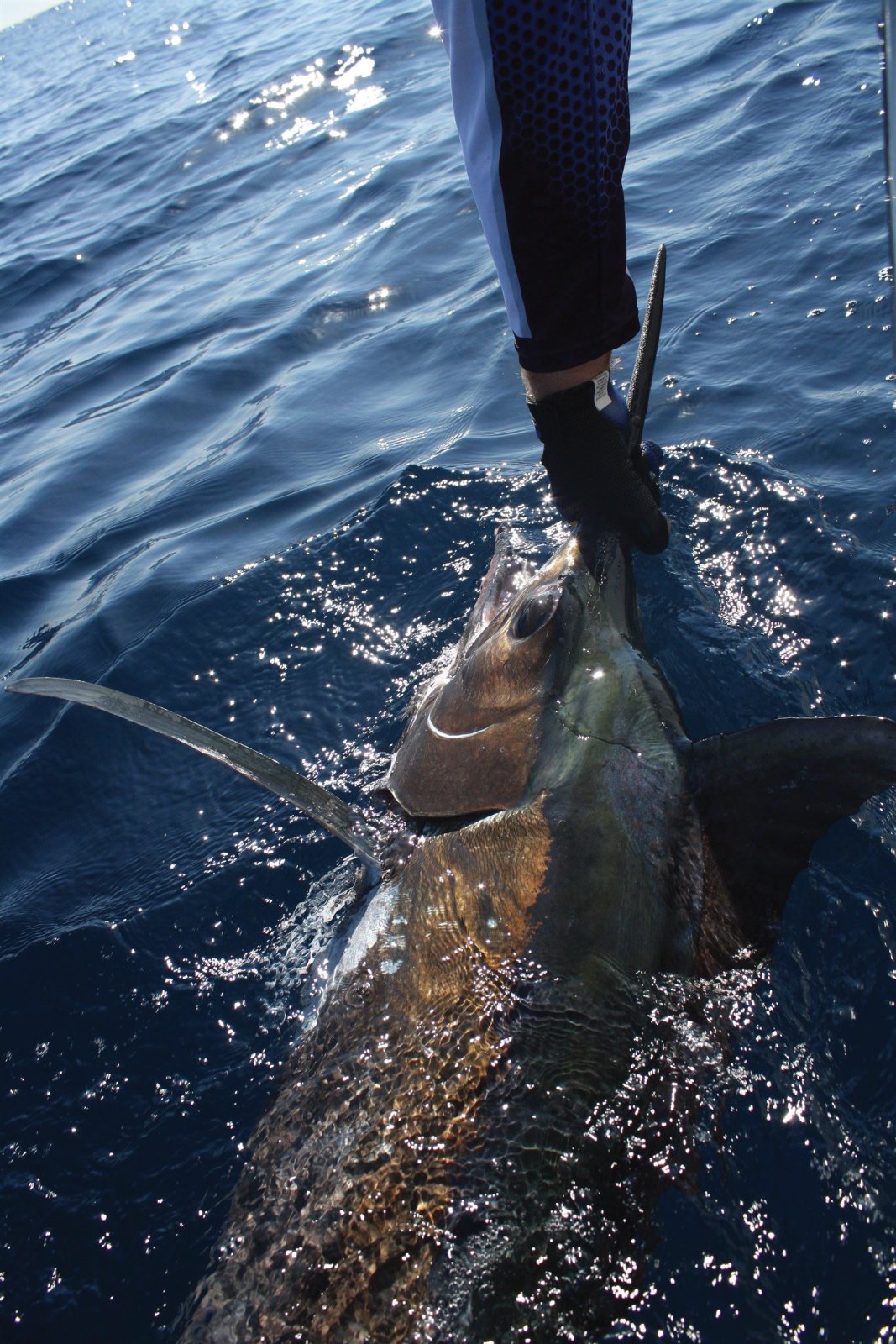 I just wanted to drop you a quick line to compliment you on your wind on leaders. I have been using your 110lb leaders in Dampier while targetting marlin and sailfish. They have never let me down and I find that using a wind on makes it much easier to control and tag fish at the boat. I recently landed 3 marlin and a wahoo on the one leader all in the same day and the join looked like it was still brand new. They are an excellent product.
Thanks
Pete Faulkner
Dampier WA
Townsville fisho Mick reports catching a 112cm barra using a 30 lb Shane Doevy Wind - awesome Mick - send in the pics for a discount on the next purchase mate

I was recently contacted by Charles Armstrong enquiring about my leaders and a non fishing use.  Charles races model yachts and was looking for a product to restore his yachts.  After some correspodence I sent some samples to Charles and he was over the moon.
Like I said a bit out of left field and not a fishng post but another happy customer.
Cheers
Shane

/