Shopping Cart
Your Cart is Empty
There was an error with PayPal
Click here to try again
Thank you for your business!
You should be receiving an order confirmation from Paypal shortly.
Exit Shopping Cart
| | |
| --- | --- |
| Posted on December 11, 2011 at 1:36 AM | |
After a long delay due to work commitments I was keen to get out for a fish yesterday and it was agreat day out.
Up early to find my car doors open as I had left them unlocked and some little pr..k had been through my car - nothing of any value missing but I looked around and a bunch of other car doors in my street were open so must be a few little pr..ks getting around - might have to put some trebles into the dark corners of the ashtray amongst the coins and tie them so when they pull their hands out - grrrrr - anyway no damage done and nothing misisng - still peevs me but.
Destination for the day was Leeders Creek to see if the rumours of metre barra being hauled in were true.  The road to Leeders was awesome and dropped a paper with Chris and launched - word was that they had seen metre barra caught this week on the neaps!! Did a troll run round the outer edge of the bend but didnt turn a scale so I had a quick drop out the front at the top of the tide but didnt bother the scorers. Head over and had a look in a SWA creek and snagged seven crabs - two good bucks and some smaller ones - good enough to take down south this week - didnt wanna get land locked so headed out and it was glasss so making hay while the sun shone i headed around Hotham to catch the bottom of the tide and try for a jewie as I havent caught one for ages - ended up with a heap of smaller jewies and one nice goldy.  The 80 lb wind ons peformed awesomely. The tide turned and things went quiet so I heded back around and fished a couple of Hotham creeks.  Had some fun with some small trevally on a bommie using rubbers attached with 45 lb wind on leaders.  Catching live was a bit difficult and of course the one livie i did get got engulfed straight away by a 60 ish barra once the incoming tide allowed me to get into the creek. Threw a big blue squidgy out and hooked and landed an 80cm silver beauty after a short fight - the 45lb leader worked a treat and allowed me to put plenty of pressure on in tight country..  Also snagged a small blue salmon as well - headed home across the bay through some chop - got wet but who cares when you have a feed of fish on board.
Great day out after such a long time out of the game -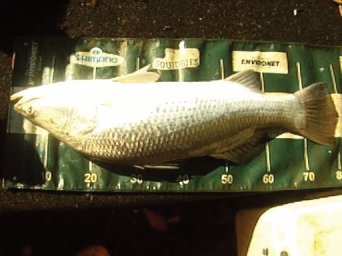 Off to have a look at the Daly tomorrow to see how its going down there.  Hopefully put the stretch on some of the 45 and 55 lb leaders.
Cheers
Shane
Categories: Fishing
/